Although I played piano for years and years when I was younger, I have struggled with trying to figure out how to teach piano to my children.
I first tried teaching my son on my own. I know chords, rhythm, and how to read sheet music. How hard can it be?
Well, that didn't work.
Then I bought a book to help me teach him. That didn't work either.
I gave up and figured we would probably have to pay big bucks and just go to a piano teacher's house once a week for both kids to learn to play.
But now I've tried Kinderbach and I think we can put that off for now.

Kinderbach is a fun and interactive video piano lesson curriculum recommended for ages 3-7. I have a 3 year old daughter and a 7 year old son and while they are on either extreme of the recommended ages, they are both learning and having fun.
The lessons are presented as fun videos. There are songs, hand motions, and dancing!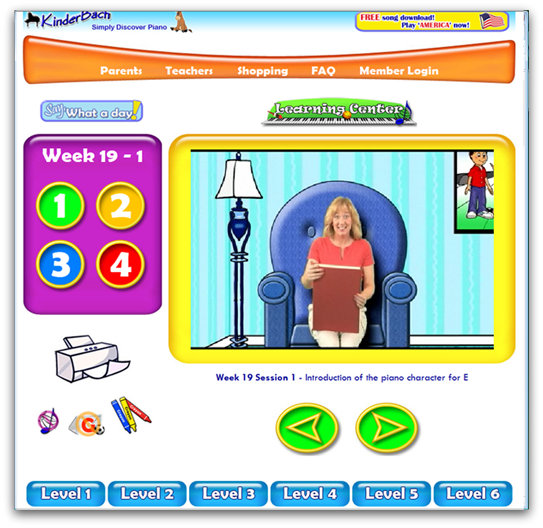 I use my lap top and set it up on our coffee table near the piano. In one of the early lessons, the kids were learning about rhythm and the video presenter asked them to copy her as she did various hand and body movements to follow the rhythm of a song. They both had a blast!
I love watching them laugh while they are learning!
There are bright colors and fun characters throughout the lessons. These are the Piano Pals pictured below. We have learned about their personalities and music appreciation as we have moved through the class. You can learn more about them too on the
Piano Pals page
.
In addition to the videos, there are also workbooks to download that correspond with the video lessons.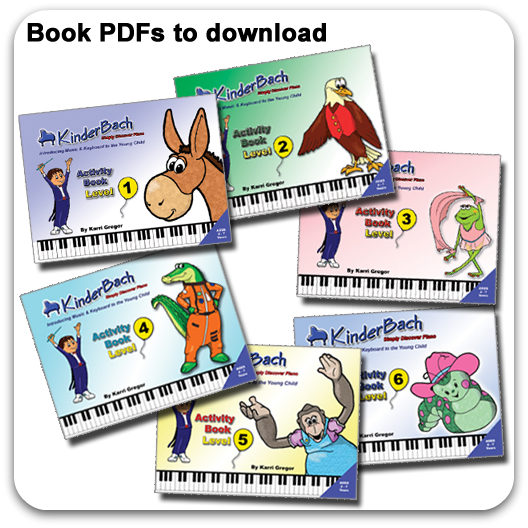 Here is a sample page from a workbook.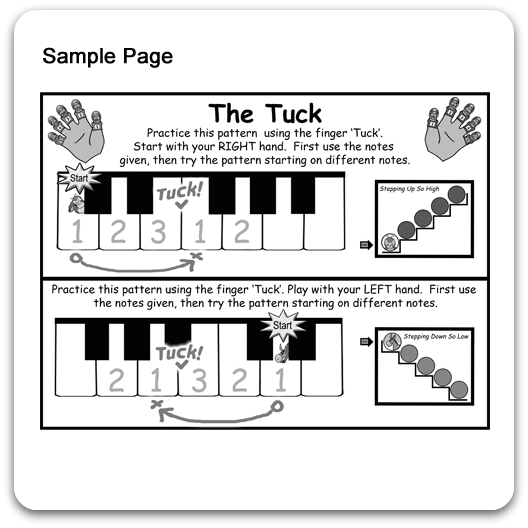 I love that Kinderbach isn't just reading from a book or just sitting at the piano. It is interactive and multi-sensory. It encourages the children to participate in a fun and exciting way and it can appeal to different kinds of learning styles.
But unlike a piano teacher, the Kinderbach membership cost covers both children and each can move through it at their own pace, go back and review or move ahead more quickly, as they need to. And the schedule is totally flexible around us and not stuck to a piano teacher's availability.
I'm so glad I found Kinderbach and I definitely plan to continue using it in our homeschool curriculum.
If you'd like to try Kinderbach in your home, be sure to check out the
Kinderbach website
and sign up for the free trial so you can be sure that it will work well for your family.
If you decide that you love it as much as I do then I have some good news! Kinderbach has generously offered a great coupon code for you. This coupon code gives 30% off any order - homeschool, classroom, online or DVDs. AND it is good for one year! Coupon Code:
TOScrew2012
You can get Kinderbach in two version, online subscription or DVD. Both provide access to over 240 sessions along with accompanying activity workbooks that you can print as needed.
The online subscription is available in two payment options:
1 - $7.99 a month - Billed in a one time annual payment of $95.88 Great Value! Save 60%)
or
2 - $19.99 monthly subscription - Billed monthly for a year in 12 separate payments
The DVDs include the video lessons and come with a CD to download the workpages. They cost $40.45 for each level and there are 6 levels.
You may also want to follow
Kinderbach on Facebook
to keep up with the latest news and special offers.
Check out what other TOS Crew reviewers had to say about how awesome
Kinderbach
has been in their home.
Note: I received a free online subscription to Kinderbach in order to review the program. I was not compensated in any other way and my opinions here are entirely my own.