My children and I love to read great books that delight and engage us. And though we do a lot of reading in our homeschool, composition is not as easy to get through. Nicholas will be starting 8th grade in the fall so regardless of whether he wants to or not, we have to find a way to get more thoughtful writing done. The Homeschool Review Crew offered me an opportunity to try out Grade 8 Lightning Lit & Comp: Preparing for High School Composition Skills by Responding to Great Literature and we jumped right in.
Hewitt Homeshooling produces the Lightning Lit & Comp sets for grades 1 through 8. The sets include a Student Guide, Workbook and a Teacher's Guide. With each year's set, there are designated books that will be read and you can buy those from Hewitt Homeschooling or purchase them elsewhere. The Grade 8 Lightning Lit Set that we reviewed includes the Student Guide, Workbook, Teacher's Guide and 7 literary works: Treasure Island, A Day of Pleasure, A Christmas Carol, The Hobbit, My Family and Other Animals, To Kill a Mockingbird, and Stories and Poems for Extremely Intelligent Children of All Ages.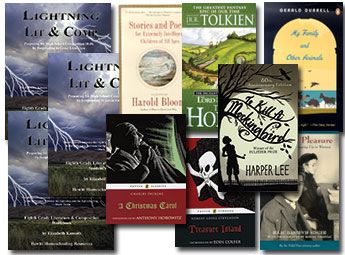 Nicholas has been working on Lightning Lit about 3 times a week. So far he has gone through "A Crazy Tale" by G.K. Chesterton from Stories and Poems for Extremely Intelligent Children of All Ages and Treasure Island by Robert Louis Stevenson. He has enjoyed the readings and the Lightning Lit guides have helped to add enrichment to his comprehension and helped me to sneak in literary lessons into our book discussions.
The
Grade 8 Student Guide
is broken up into chapters based on each assigned book or reading. Each chapter in the Student Guide begins with a background of the author and notes about what to look for during reading. There is a list of vocabulary words from the reading that the student might not be familiar with. Nicholas always read over this list before doing his reading assignment. Next there are comprehension questions. These can be used in different ways but we used these as discussion starting points during our review at the end of each week. The Student Guide then presents a great Literary Lesson that pertains to the book and these include topics like setting, vivid imagery in poetry, character development, conflict, symbolism, and more. Then there are Mini-Lessons which may or may not be related to the assigned readings. Some Mini-Lesson topics include Taking Notes, Citing Sources in a Paper, Sentence Structure, Writing a Conclusion, and more. Finally, the Student Guide chapters each end in Writing Exercises for the student. These are intended to be completed after the reading assignment and after completing the Workbook exercises. Nicholas completed 1-2 writing exercises for each assigned reading.
The Grade 8 Workbook is consumable so your student will be writing in this. It contains a group of exercises for each assigned book or reading that corresponds with the Literary Lessons in the Student Guide. For example, for Treasure Island, the Literary Lesson was on Setting. The Workbook exercises are mostly geared towards analyzing setting. There are even some fun activities to practice describing setting as the student uses all five senses to describe the setting in different rooms of their own house. The Workbook also includes some fun activities based on the assigned reading like crossword puzzles and word searches.
The Grade 8 Teacher's Guide begins with an easy-to-understand overview of the program and weekly lesson plans. Then for each reading assignment, it provides answers to the comprehension questions given in the Student Guide. I usually try to read the same books that Nicholas is reading or we may even read them together as a read aloud. But sometimes, I have too many other things going on and I don't get to it. It is great to have these answers to the comprehension questions laid out for me to help with our discussions. The Teacher's Guide also provides more information on the lessons, as well as answers for the workbook pages.
If you are interested in reading reviews on Lightning Lit & Comp for other grades, please just click on the link below to see what other Homeschool Review Members have to say: