We have been using a wonderful homeschool art curriculum called Creating a Masterpiece. It offers an online art program taught through videos by art teacher, Sharon Hofer. This is really a great product and I'm so excited that we had a chance to review it.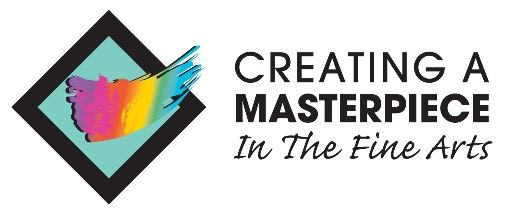 It is an online program so you are purchasing a subscription. We reviewed the Monthly Plan that gives us access to all of the projects for the month that we have paid. There is also an Annual Plan and you can purchase Individual Levels.
The art projects are divided into levels - Beginner and then levels 1 to 5. The Beginner projects are short with just one lesson and could probably be completed in about an hour. The art projects for the other levels are broken into multiple lessons with each lesson taking approximately an hour to complete. These more challenging art projects have about three to four lessons each. I had planned to have my children complete a lesson every other day but honestly they enjoyed them so much that they kept going through more lessons on their own!
We started with a Level 2 project using oil pastels. My kids both love animals so they wanted to create the panda bear. I think they were especially intrigued that it was made on velour paper so it would be soft and fuzzy like touching a real bear.
They watched the videos and completely their preliminary drawing.
Ms. Hofer taught them to draw the bear by starting with basic shapes and then going back to add detail. My kids did great with this. Drawing a panda bear can seem like quite a challenge but the way the steps were laid out, my kids weren't intimidated at all.
Next they transferred their panda bear to the velour paper. Isn't he already adorable?
I was really impressed with how much my children enjoyed these art lessons. They were excited to get started each day and they moved through the lessons on their own.
Here are their finished panda bears. They had a lot of fun creating him and they are so proud of the way this art project turned out.
Nicholas, age 12
Rachel, age 8
They also made a Level 4 project using copper tooling to make seahorses. This one had some unusual supplies like copper sheets and liver of sulphur to create the patina.
I love teaching art to my kids but I really dislike having to run to the craft store all the time for supplies.
Plus if I'm unfamiliar with the supplies then I usually end up questioning if I've bought the right items, correct sizes, etc. So I really appreciate the fact that with Creating a Masterpiece, not only is there a list of all of the supplies that you need but you can even click on a link to purchase supplies. When you click to purchase supplies, you are taken to the Dick Blick art supply webpage where all of the supplies for your particular project are grouped together and you just click on which ones you want to add to your cart. What an amazing partnership between these two great companies! I wasn't sure where to buy velour paper or liver of sulphur so I was glad to be able to order it through the website and know that I got just the right product. It was quick and easy.
We reviewed the monthly plan which costs $39.99 per month and gives you access to all of the online art lessons which includes over 144 lessons and additional tips. There are other options available though. You can save some money by signing up for annual access for $349. This is really a bargain because it is so much cheaper than a year of art classes for my two kids! You can check out other membership options HERE.
Please check out some more reviews for Creating a Masterpieces from the Home School Review Crew by clicking on the banner below

: