My children love to read and they go through books quickly so I'm always on the lookout for new wholesome books for kids. I saw that the Home School Review Crew was going to review the Circle C Stepping Stones series written by Susan K. Marlow, published by Kregel Publications, so I excitedly offered to participate so my daughter Rachel could check out these books.
We received the first two books in the series which include Andi Saddles Up and Andi Under the Big Top. Andi is a spunky nine year old ranch girl who loves her palomino horse, Taffy. The books in this series are recommended for ages 7-10. Rachel is 8 years old so the reading level is perfect for her....plus she loves horses!
The first book we read was Andi Saddles Up. For her birthday, Andi is excited to get a new saddle for Taffy and she is now old enough to ride Taffy by herself. She meets Sadie, her neighbor who is about her same age. They become great friends but then realized that their families are in the middle of a big land dispute.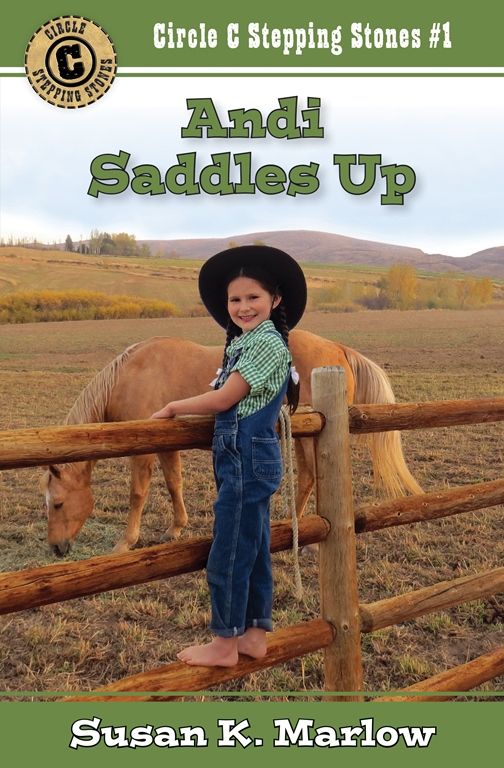 At the beginning of each book, there is a list of "New Words" that are found in the book but that a child this age might not know. I LOVE this special touch to help kids learn vocabulary as they are reading.
Also, at the end of the book, there is a "History Fun" section that explains a little about the culture and history of the time in which the story took place.
The second book we read was Andi Under the Big Top. The circus has come to town and Andi is so excited to see the elephants, acrobats, and especially the lady who jumps horses through a ring of fire! But she meets a boy named Henry who ran away to join the circus and he needs her help.
Both books teach children about good values and character development. They touch on issues like obedience, loyalty, perseverance, and faith. Andi and her family have to deal with some unfriendly people and they are faced with real-life challenging situations. They work together and they pray through the challenges. In the end, they resolve their problems with grace and mercy.
The illustrations are beautifully detailed black and white drawings. As a special touch, the illustrations are all available on the Circle C Stepping Stones website to be printed off as Coloring Pages!
My daughter has loved reading these two books and she has asked for ALL of the books about Andi! There are 4 more books planned for this series. But we also learned that there is an earlier series of "Andi books" called Circle C Beginnings.
Also on the website are Activity Pages that serve as a Study Guide for each book. You can download them for free or buy a pre-printed spiral bound version. There are even Lapbooks for each story that you can purchase to let you child dig deeper into learning with the Andi books.
If you would like to read more reviews from the Home School Review Crew for these books by Susan K. Marlow and Kregel Publications, please click the banner below: