As a reviewer for the Home School Review Crew I was given the opportunity to review some products from the Home School Adventure Co. This is wonderful company that was founded by a homeschool family. Their mission is to help "other families cultivate and defend a biblical worldview"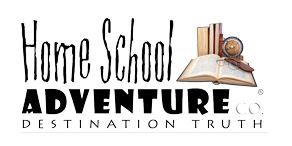 I chose to review their product, Celebrating Manhood: a rite of passage guide. It was written by Stacy Farrell as a way to help her sons celebrate their growth into men of integrity.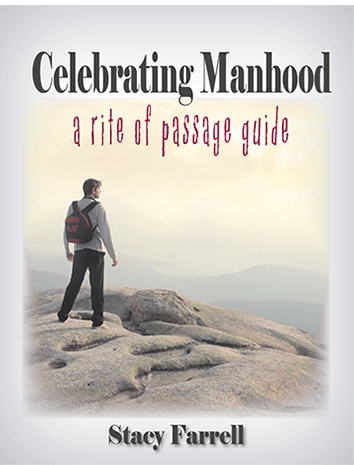 My husband didn't have any kind of rite of passage like this when he was growing up. Sadly, the idea of a rite of passage is something that our modern culture seems to have lost. Instead childhood just seems to go on and on. There doesn't seem to be much expectation for teenagers and young adults to be productive with their time and to think outside of themselves so they end up spending their days glued to their cell phones or playing video games.
However, in the past, there were higher expectations for young people. They were taught skills and values by their older generations. They were given more responsibility at younger ages and they were expected to behave maturely and contribute to their family and society as a whole. We need to get back to that attitude that young people can make a difference and a worthy contribution to the world around them by learning from their elders and then going out and applying themselves.
A rite of passage celebration is the perfect way for a young man to realize what is expected of him as he enters into young adulthood. It is his time to grow into his potential and be all that God has planned for him.
Stacy Farrell has written Celebrating Manhood: a rite of passage guide to help plan a rite of passage for her growing sons. It is a great resource for parents who have not attended such an event because she has already planned it all out for you. She includes a blueprint for the celebration and she even includes a template for you to use to make the invitations. The packet includes an agenda which covers inviting a few men who have been important in the young man's life, food, activities, blessings, and question cards.
The Question Cards come as 3 different sets of printable cards to be used during the celebration. The topics for the 3 sets are "If Only I Had Known...", "I Remember When...", and "What I Value and Respect...". The men at the celebration take turns pulling a card from a deck and giving a meaningful answer.
Here are a few examples of questions in the cards:
What helps you deal with the inevitable disappointments you encounter in life?

What is one of the best experiences you had with your dad?

If you could change one thing about the world, what would it be?
You can purchase the digital download for $14.95 or order a print version for $18.95.
I think a rite of passage celebration is a wonderful milestone in a young man's life and it is an opportunity that should not be missed. I'm grateful for the ideas and resources that are included in Celebrating Manhood. However, for the price, I would like to see a little bit more information about the importance of the ceremony in a young man's life and perhaps a few more specifics included with the ideas for the agenda. Overall, I think it is a great product and I would definitely recommend it to parents of boys.
If you would like to check out some more reviews from the Home School Review Crew about this product and others from the Home School Adventure Co., please click on the banner below: