When I learned that I would have the opportunity to review a Guidecraft product I was super excited. But I was even more excited to learn that it would be the Hideaway Country Kitchen! This kitchen collapses so you can move it out of the way to make room for the rest of the things you need space for in your life. I love just about all of the Guidecraft products for children so I may have possibly fell in love with this kitchen before I ever even saw it in person.

However, when my little girl heard that the giant box at the front door was a play kitchen for her, she squealed with delight and jumped up and down for joy!


Her seven year old brother was pretty excited about the kitchen too so the too of them hounded me until I finally agreed to assemble it.


I was a little worried at first but felt much more relaxed when I realized that all of the pieces were clearly labeled and the instructions were easy to understand. I'm a lightweight when it comes to assembly and my sweet husband offered to put it together but I wanted to prove that I could do it all by myself.


All of the holes are predrilled and the hardware is included. You could easily put this together with a regular screwdriver but, again, I'm a lightweight and wimped out for the electric type of screwdriver.


I did end up putting most of it together by myself but there were a few parts when I needed my husband to help me.

It's a really cute kitchen and my children just love it.


I love it too because of the "hideaway" feature. This kitchen stands at 38" h x 15.25" w x 30" l.


However, when we need that floor space for my son and his friends to play air hockey, it's no trouble to collapse the kitchen, move the air hockey table from under the train table, slide the kitchen into hiding under the train table and set up the air hockey table where the kitchen once stood.


It's so easy to hide it away that even my 7 year old son can do it.

There is a little spot on the front where you use an allen wrench to release the stove top from the base on one side.


The stove top is hinged in the back so just lift if up and it will remain in the open position against the back wall of the kitchen. The base is also hinged in the back so next you will lift if up.


Unlock the two folding side panels.


And collapse the kitchen.


It's easy to move around once it is in its collapsed form.


Ahh, the juggling acts you must perform when living in a small home.

I do love the kitchen for it's cuteness factor too. The clock has moving dials and there are little hooks below it to hold baby bibs or oven mitts.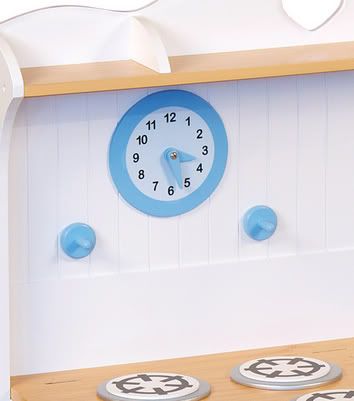 There is a removeable sink which makes it easier to clean when my little one manages to sneak real food (sticky food!) into her kitchen.




The oven and stove have knobs that really turn and even make a cute clicking sound as they turn.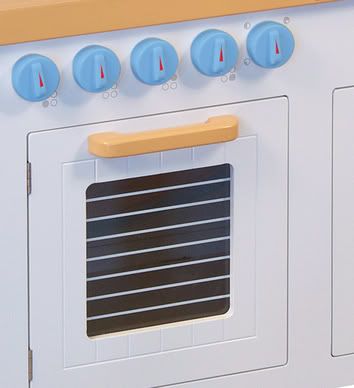 The Guidecraft Hideaway Country Kitchen retails for $200.00. You can purchase it online at the Guidecraft website. It is receommended for ages 3 and up but I think this could be reduced to 2 years and up because my little 2 year old loves it.

While you are at their website, check out some of their other great products like Shimmering Water Blocks and Magneatos.

Note: I was sent this product from Guidecraft free of charge in order to write this review. I was not compensated for my time and my opinions here are all my own. Please check out what others on the TOS Homeschool Crew have to say about the great materials from Guidecraft.