We have tried many ways to get the kids to stay on top of chores around the house. However, they need a little more structure than what we have been doing. I want them to consistently do more light cleanings each week instead of waiting until the kitchen is sticky and there are dust bunnies running across the living room floor.
I recently had the opportunity to read and review The Everyday Family Chore System by Everyday Homemaking. The book was written by Vicki Bentley with the hopes of providing encouragement to parents and proving some tools to help us train our children to be responsible contributors to the family and to do so with a positive attitude.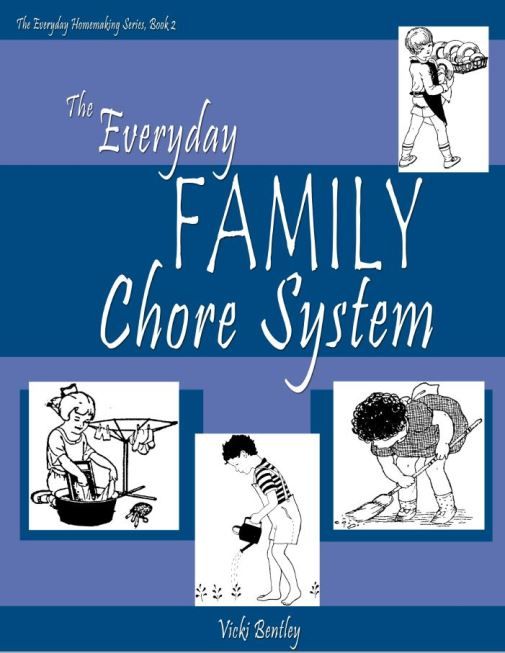 The Everyday Family Chore System is based on a Christian worldview. It states that being responsible members of the family is not just a way for children to honor their parents but to also honor God. Just as parents, we must submit to authority, have a servant's heart, and do everything without complaining, so must our children as they learn and grow into responsible young adults.
The Everyday Family Chore System is available in a print version for $19.99 and a pdf download for $15.99. I reviewed the download version but printed it and bound it myself so I could underline and makes notes as I read.
Ms. Bentley writes that, "Children can only be reasonably held accountable if we can be confident that they know what to expect. It helped me to put those expectations in writing to reduce the probability of a misunderstanding". As a result, she offers many ways to create visual chore management system so that children can see which chores they need to complete by the end of the day. One system uses clothespins with chore labels on them so that they can be clipped to a display with the corresponding assigned child's name. The book even includes printable chore labels to put on the clothespins. I love how easy that is! But other ways to display assigned chores are mentioned as well.
One of the features of The Everyday Family Chore System that I really like is that it includes "How To Do It" cards so that after children have been trained on how to complete a chore, they can easily refer back to the steps they need to complete to be sure the job is done thoroughly and correctly. I love this idea because often their idea of clean is something much different than my idea of clean. These cards make sure that everyone is on the same page about what is expected to be done.

One challenge we had when our children were younger was trying to determine which chores were appropriate for each child's age level. The Everyday Family Chore System includes a list of suggested chores for children starting as young as two years old. Of course, each child is different so you may have to adjust this list some with your particular child in mind but it is a great place to start thinking about children's skill levels at different ages.
Not only does The Everyday Family Chore System help by giving you ideas for visually presenting a chore system for your children, but it also encourages parents by discussing the importance of children doing chores and being trained at an early age. It also provides help on training a child's heart for service as well as suggestions on how to organize your home to be most successful in maintaining and clean and organized home.
Through September 5th, you can get 10% off The Everyday Family Chore System and Everyday Cooking by using the code TOS10books in your cart at checkout. This discount applies to print and e-books.
Members of the Homeschool Review Crew had the opportunity to review either The Everyday Family Chore System or the Everday Cooking books. If you would like to see what other members had to say about either of these books just click on the banner below.