Rachel loves arts and crafts. She is always making pictures and various creations in her free time. She particularly loves painting but do you know how messy paint can be? The paint covered brushes always seem to end up rolling around on the table leaving trails of color in their wake. The cup of water intended to clean the brushes when you want to change colors of paint gets spilled or at least ends up splashing paint colored water everywhere. And then once the art work is complete, you have to be sure no one touches the final masterpiece until all of the paint has dried.I love to encourage art for my kids but I usually dread getting out paint for them to use.
So I was intrigued when the Homeschool Review Crew offered me the chance to review the Thin Stix 6 pk of Classic Colors which are just one of the cool choices in the Kwik Stix product line by The Pencil Grip, Inc. The packaging states that it is non-toxic, no water is needed, and it dries in 90 seconds. Hallelujah!
Moms, this product is cool! Kwik Stix is a solid tempera paint in a stick form. The paint sticks twist up in the tube like a glue stick. There is no need for messy paint and brushes and cups of water to rinse the brushes between colors. Just pop the top off, glide the paint on the paper and then snap the top back on. There original version of Kwik Stix is shorter and wider and might be better for smaller hands. These Thin Stix are longer and more narrow which allows for finer detail in art projects.
Rachel couldn't wait to open up the package and start painting.
The Thin Stix are easy to use and the paint goes on easily. It sort of feels like you are using a soft crayon but the colors are thick and vibrant. Rachel did notice that she wasn't able to blend the paint colors quite like she can with regular paint. You will notice that the red and blue in the rainbow do not really make purple. I imagine part of the issue here is that this amazing paint dries in 90 seconds so, as wonderful as that is, it doesn't really allow much time for blending colors. The Thin Stix 6 pk. of Classic Colors comes with yellow, red, green, blue, brown, and black. This pack is available on Amazon.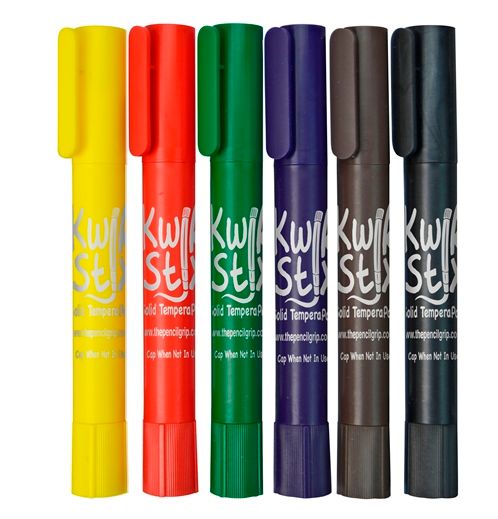 However, as I look at Amazon, there are lots of other choices in colors for Thin Stix. They have a pack of 12 Classic Colors (which includes purple) but they also offer 6 neon colors and 6 metallic colors. Or you can just get all of the colors in their 24 count pack. That's the one Rachel has on her wish list!
The packaging states that it works on paper, posters, and more. Rachel had a cardboard cross that she wanted to decorate with the Thin Stix. I wasn't sure if the paint might absorb too much into the cardboard of if the brownish-gray color might show through the paint colors. Here is a video we made of her painting her cross project. I love how she adds her commentary for review purposes....
Rachel has really enjoyed using the Kwik Stix Thin Stix 6 pk. of Classic Colors and I'm sure we will be adding more colors soon. Just so you know, they also have their original paint sticks that were out before the Thin Stix. The original ones are shorter but wider. We are going to stick with the Thin Stix though for our future projects.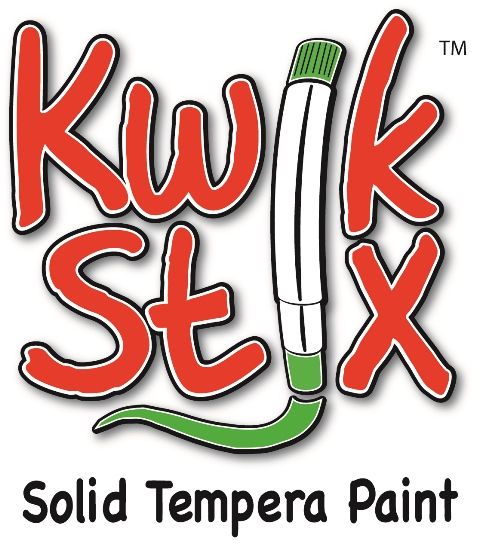 Rachel wanted me to show one more project that she made with her Thin Stix. She really loves them!
If you are interested in finding out more about the Kwik Stix Thin Stix 6 pk of Classic Colors or any of their other paint stick products, you can find them online at:
Website: http://www.thepencilgrip.com/
Facebook: https://www.facebook.com/thepencilgrip/
Twitter: https://twitter.com/thepencilgrip
Pinterest: https://www.pinterest.com/KwikStixPaint/boards/
You can also read more reviews from other members of the Homeschool Review Crew by clicking on the graphic below. Some reviewers are even offering a giveaway!